Read About the new Toyota Prius Line-Up - The Prius V, Plug-In and C Concept
All new Prius V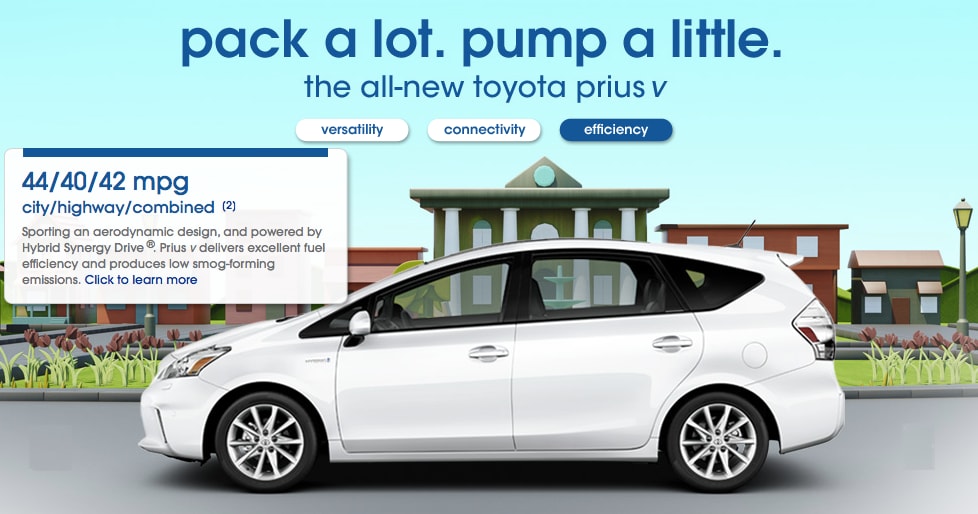 42 MPG City, 38 MPG Highway, 40 MPG Combined
Second row seats slide, fold flat, and recline 45 degrees for comfort
34.3 cubic feet of cargo volume
First-ever resin Panoramic View moonroof with power retractable sun shades
One of the first Toyotas with the Entune™ multimedia system
Same 1.8 liter engine as the 3rd Gen Prius
11.5 second 0-60 MPH
Prius v: "Versatility" for Young, Active Families
The new Prius v, with "v" expressing the vehicle's versatility, will meet the needs of growing families with active lifestyles while providing the same attributes traditionally found in the Prius DNA. It will share the current generation Prius' platform and Hybrid Synergy Drive technology. Featuring a compact exterior yet spacious interior, the Prius vwill feature over 50-percent more interior cargo space than the current Prius.
All new Plug-In Prius


Joining the popular third-generation Prius Liftback and the new Prius
v
, the new Prius Plug-in combines the benefits of the standard Prius model's hybrid vehicle operation with extended electric vehicle (EV) driving and more affordable pricing than pure electric or range-extender type vehicles. The 2012 Prius Plug-in Hybrid, which offers seating for five, is expected to achieve a manufacturer-estimated 87 MPGe (miles per gallon equivalent) in combined driving and 49 MPG in hybrid mode.
The 2012 Toyota Prius Plug-in Hybrid will allow true EV operation and performance for up to 15 miles at speeds up to 62 mph, along with quick home charging using a standard AC outlet and 15-amp dedicated circuit. Operating in EV mode, the Prius Plug-in Hybrid provides the quick, smooth quiet driving of a pure electric vehicle. The Prius Plug-in Hybrid offers the same five-passenger seating and luggage space as the standard Prius model.
Extended Electric Range

Selectable EV Mode

eQuick Home Charging

Expected 87 MPG
All new Prius C concept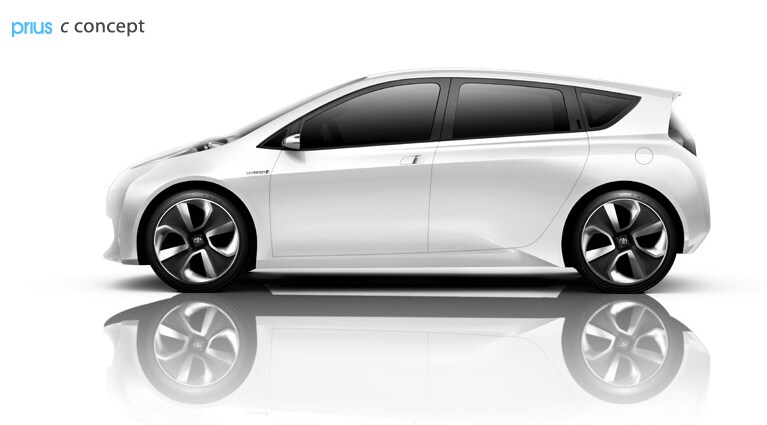 The Prius c Concept, with c representing a 'city'-centric vehicle, will appeal to young singles and couples who want an eco-sensitive, high-mileage, fun-to-drive Prius.

This dynamic vehicle wîth urban appeal will pursue outstanding fuel efficiency in a compact package, while also providing a surprisingly spacious interior. It will include many advanced technology features, including some offered on the current Prius.

Prius c Concept is the inspiration for an additional Prius family member that will come to market in the first half of 2012 as the most value-oriented hybrid in the U.S. market wîth the highest mileage of any 'cordless' hybrid.