Introducing The 2020 Toyota Supra
Back On the Road and Ready for More: 2020 Toyota Supra
For those who have been driving vehicles for a while, the Toyota Supra may bring back fond memories. This sporty vehicle offered a unique driving experience: one that was defined by style, versatility, and confidence. Now, with the return of this exciting vehicle, you can enjoy a modernized version of this popular driving experience -- one that offers more power, more efficiency, more technology, and more assurance.
Furthermore, the 2020 Toyota Supra offers an incredible driving experience that is memorable, comfortable, and powerful.
2020 Toyota Supra Features
Performance
The 2020 Toyota Supra makes itself known on the road thanks to its incredible power and agile versatility. With these performance benefits, you can easily conquer any road you come across, whether you are traversing back roads or you are chasing the horizon on the highway.
So what are some of the performance benefits you can expect from this vehicle?
With the 2020 Toyota Supra, you will be able to take advantage of the 3.0L Twin-Scroll turbocharged inline six engine, which delivers an impressive 335 horsepower, 365 pound-feet of torque, and the ability to go from 0 to 60 in just 4.1 seconds.


Furthermore, the 2020 Toyota Supra has near perfect 50:50 weight distribution, helping ensure your steering and agility on the road is fluid and easy to control. You can also enjoy a top speed of 155 miles-per-hour.
In other words, you can enjoy impressive speed and strength when you are behind the wheel of the 2020 Toyota Supra
Safety
The interior of the 2020 Toyota Supra provides you with easy access to a wide variety of features, all of which help elevate the quality of your driving experience. Some of those features include the following:
a navigation system
lane departure technology, speed limit sign recognition, and parking sensors
an emergency communication system
wireless phone connectivity
automatic temperature control
an available Driver Assist Package
All of these features help keep you secure and safe when you are on the road, while also ensuring your comfort wherever you go.
Trim Levels
The 2020 Toyota Supra offers you three impressive trim levels from which you can choose. They include:
3.0
3.0 Premium
3.0 Premium Launch Edition
All of these trim levels offer you a unique driving experience, complete with exquisite artisanship and impressive features and performance, with which you can confidently traverse the open road.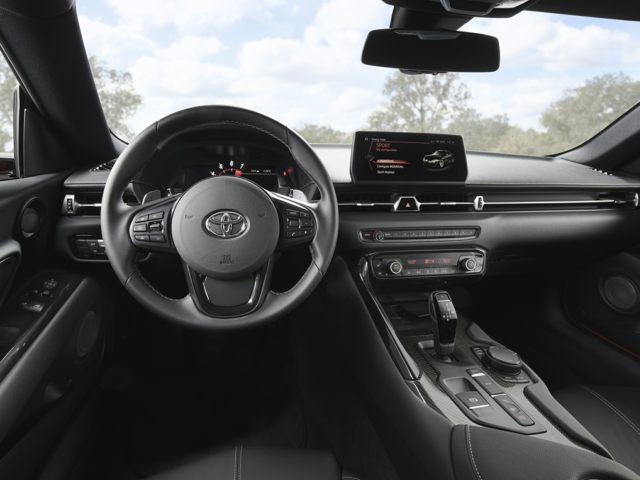 Ready for a Test Drive?
The 2020 Toyota Supra is a truly impressive vehicle for a number of reasons. Not only does its return bring with it new style and exciting versatility, but it also offers a level of power and confidence on the road that is truly breathtaking. Whether you are investing in this car for the first time, or you are returning to it with fond memories of the previous model, we are confident you will enjoy the experience it has to offer.
If you would like to learn more about our selection of vehicles, including the 2020 Toyota Supra, stop by Sloane Toyota of Malvern, located in Malvern, PA. Our team would be proud to help you schedule a test drive with your preferred driving option.
Stop by at your next opportunity, and we can help answer any questions you may have about the 2020 Toyota Supra, the purchasing process, or anything in between.
We are proud to serve drivers in Malvern, Devon, Downington, Coatesville, Frazer, Paoli, and Great Valley.