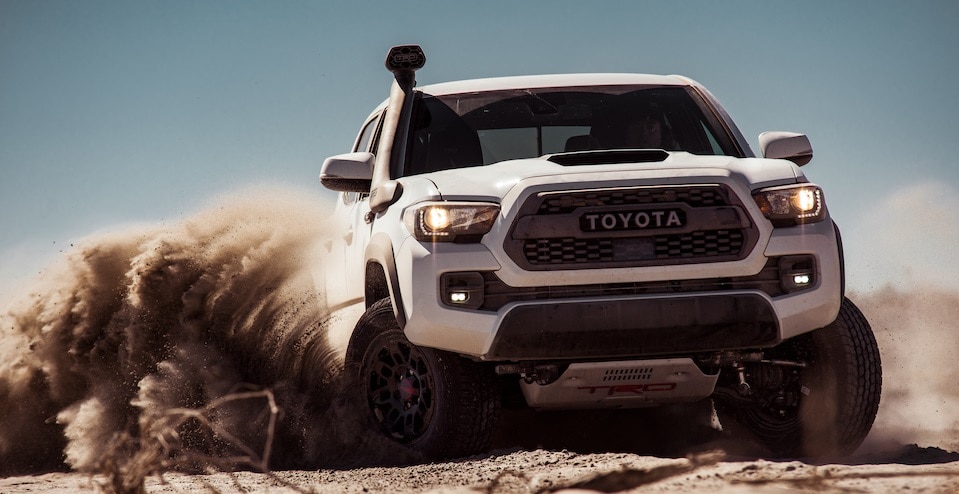 New Toyota Trucks in Malvern, PA
Which Toyota Truck Should I Invest In?
Toyota models have long been on the cutting-edge, particularly when it comes to performance, versatility, and quality. This is especially true of our trucks, which offer a unique experience on the road -- one that will change the way you view the open road. Regardless of whether you need a truck that can handle professional work sites or personal errands, we can help you find a model that fits your lifestyle needs.
What are the differences between these two trucks, though? Which one should you invest in?
There are some distinct differences between these two vehicles. While both have their merits, one may better suit your needs on the road and your personality better than another.
If you are concerned about price, then you may be interested in investing in the Toyota Tacoma. It's a bit more affordable while offering a wide variety of benefits both in terms of performance and features.
For those who crave performance, the 2020 Toyota Tundra is the truck for you. It can deliver up to 381 horsepower and 401 pound-feet of torque, while the 2020 Toyota Tacoma delivers 159 horsepower and 180 pound-feet of torque. However, the 2020 Toyota Tacoma is more efficient than the Toyota Tundra, delivering 21 combined mpg. The Toyota Tundra only offers 15 combined mpg.
The 2020 Toyota Tundra has more interior space than the Toyota Tacoma. Specifically, it has more front hip room, front shoulder room, rear legroom, rear headroom, rear hip room and rear shoulder room. The 2020 Toyota Tundra can also seat up to six people, while the Toyota Tacoma can only seat four.
There are some features which are standard in the Toyota Tundra which are either not available or cost extra to get on the Toyota Tacoma. That includes standard Remote Keyless Entry, a standard Panic Alarm, standard Rear Child Safety Door Locks, and more.
In terms of safety technology, both of these trucks are relatively even in terms of what they offer. That means, no matter which vehicle you decide to invest in, you can trust that it will keep you secure.
As you can see, there are a few important differences. However, to boil everything down, the biggest difference between these two trucks is simple: one is more heavy-duty and the other is more lightweight. For those who need a rugged truck -- one that can handle tough terrains and difficult jobs -- we recommend investing in the 2020 Toyota Tundra. For those who want a lightweight, day-to-day truck that can handle the open road, offer excellent efficiency, and more you may be interested in checking out the 2020 Toyota Tacoma.
Toyota Tundra

Toyota Tacoma

Ready for a Test Drive?
We know how important it is to have a vehicle that provides you with a dependable experience on the road - one suited to your day-to-day travels and experiences. With a Toyota truck, that is exactly the experience you will get.
Regardless of which truck you prefer, or if you are more interested in a different vehicle on our lot, stop by our dealership today! Our team would be proud to help answer any questions you may have about the purchasing process. Visit us at Sloane Toyota of Malvern, located in Malvern, PA. Our team would be proud to help answer any questions you may have about the purchasing process.
We are proud to serve drivers in Devon, Downingtown, Coatesville, Frazer, Paoli, and Great Valley.
Make an Inquiry
* Indicates a required field